Critical thinking is a foundational skill applicable across various domains, including education, problem-solving, decision-making, and professional fields such as science, business, healthcare, and more.
It plays a crucial role in promoting logical and rational thinking, fostering informed decision-making, and enabling individuals to navigate complex and rapidly changing environments.
In this article, we will look at what is critical thinking in nursing practice, its importance, and how it enables nurses to excel in their roles while also positively impacting patient outcomes.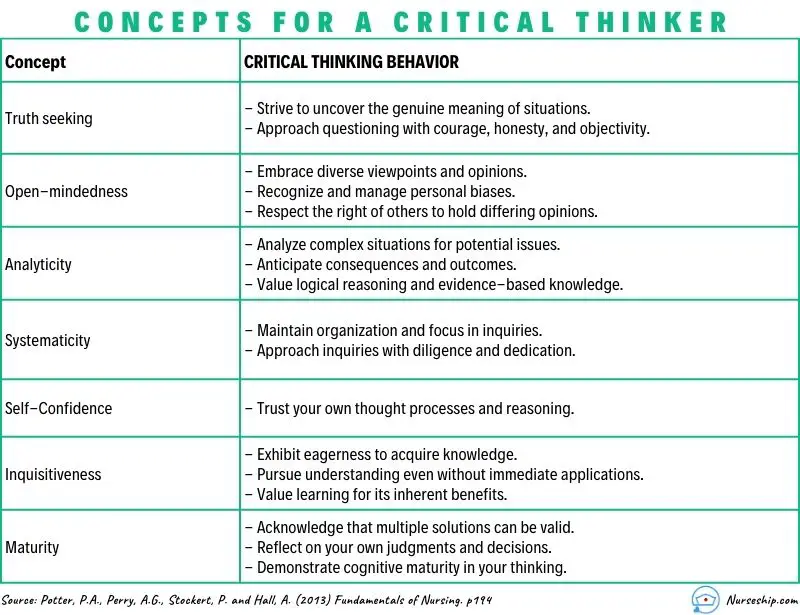 What is Critical Thinking?
Critical thinking is a cognitive process that involves analyzing, evaluating, and synthesizing information to make reasoned and informed decisions.
It's a mental activity that goes beyond simple memorization or acceptance of information at face value.
Critical thinking involves careful, reflective, and logical thinking to understand complex problems, consider various perspectives, and arrive at well-reasoned conclusions or solutions.
Key aspects of critical thinking include:
Analysis: Critical thinking begins with the thorough examination of information, ideas, or situations. It involves breaking down complex concepts into smaller parts to better understand their components and relationships.
Evaluation: Critical thinkers assess the quality and reliability of information or arguments. They weigh evidence, identify strengths and weaknesses, and determine the credibility of sources.
Synthesis: Critical thinking involves combining different pieces of information or ideas to create a new understanding or perspective. This involves connecting the dots between various sources and integrating them into a coherent whole.
Inference: Critical thinkers draw logical and well-supported conclusions based on the information and evidence available. They use reasoning to make educated guesses about situations where complete information might be lacking.
Problem-Solving: Critical thinking is essential in solving complex problems. It allows individuals to identify and define problems, generate potential solutions, evaluate the pros and cons of each solution, and choose the most appropriate course of action.
Creativity: Critical thinking involves thinking outside the box and considering alternative viewpoints or approaches. It encourages the exploration of new ideas and solutions beyond conventional thinking.
Reflection: Critical thinkers engage in self-assessment and reflection on their thought processes. They consider their own biases, assumptions, and potential errors in reasoning, aiming to improve their thinking skills over time.
Open-Mindedness: Critical thinkers approach ideas and information with an open mind, willing to consider different viewpoints and perspectives even if they challenge their own beliefs.
Effective Communication: Critical thinkers can articulate their thoughts and reasoning clearly and persuasively to others. They can express complex ideas in a coherent and understandable manner.
Continuous Learning: Critical thinking encourages a commitment to ongoing learning and intellectual growth. It involves seeking out new knowledge, refining thinking skills, and staying receptive to new information.
Definition of Critical Thinking
Critical thinking is an intellectual process of analyzing, evaluating, and synthesizing information to make reasoned and informed decisions.
What is Critical Thinking in Nursing?
Critical thinking in nursing is a vital cognitive skill that involves analyzing, evaluating, and making reasoned decisions about patient care.
It's an essential aspect of a nurse's professional practice as it enables them to provide safe and effective care to patients.
Critical thinking involves a careful and deliberate thought process to gather and assess information, consider alternative solutions, and make informed decisions based on evidence and sound judgment.
This skill helps nurses to:
Assess Information: Critical thinking allows nurses to thoroughly assess patient information, including medical history, symptoms, and test results. By analyzing this data, nurses can identify patterns, discrepancies, and potential issues that may require further investigation.
Diagnose: Nurses use critical thinking to analyze patient data and collaboratively work with other healthcare professionals to formulate accurate nursing diagnoses. This is crucial for developing appropriate care plans that address the unique needs of each patient.
Plan and Implement Care: Once a nursing diagnosis is established, critical thinking helps nurses develop effective care plans. They consider various interventions and treatment options, considering the patient's preferences, medical history, and evidence-based practices.
Evaluate Outcomes: After implementing interventions, critical thinking enables nurses to evaluate the outcomes of their actions. If the desired outcomes are not achieved, nurses can adapt their approach and make necessary changes to the care plan.
Prioritize Care: In busy healthcare environments, nurses often face situations where they must prioritize patient care. Critical thinking helps them determine which patients require immediate attention and which interventions are most essential.
Communicate Effectively: Critical thinking skills allow nurses to communicate clearly and confidently with patients, their families, and other members of the healthcare team. They can explain complex medical information and treatment plans in a way that is easily understood by all parties involved.
Identify Problems: Nurses use critical thinking to identify potential complications or problems in a patient's condition. This early recognition can lead to timely interventions and prevent further deterioration.
Collaborate: Healthcare is a collaborative effort involving various professionals. Critical thinking enables nurses to actively participate in interdisciplinary discussions, share their insights, and contribute to holistic patient care.
Ethical Decision-Making: Critical thinking helps nurses navigate ethical dilemmas that can arise in patient care. They can analyze different perspectives, consider ethical principles, and make morally sound decisions.
Continual Learning: Critical thinking encourages nurses to seek out new knowledge, stay up-to-date with the latest research and medical advancements, and incorporate evidence-based practices into their care.
In summary, critical thinking is an integral skill for nurses, allowing them to provide high-quality, patient-centered care by analyzing information, making informed decisions, and adapting their approaches as needed.
It's a dynamic process that enhances clinical reasoning, problem-solving, and overall patient outcomes.
What are the Levels of Critical Thinking in Nursing?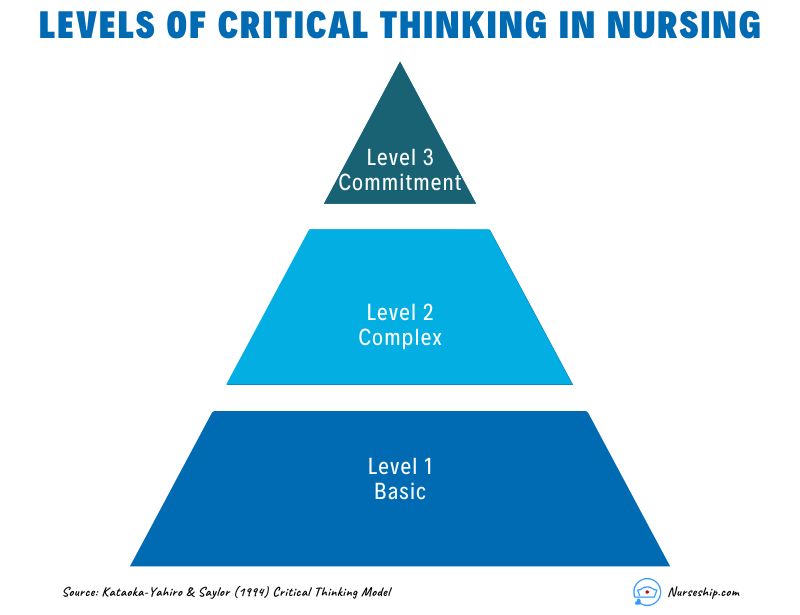 The development of critical thinking in nursing practice involves progressing through three levels: basic, complex, and commitment.
The Kataoka-Yahiro and Saylor model outlines this progression.
1. Basic Critical Thinking:
At this level, learners trust experts for solutions. Thinking is based on rules and principles. For instance, nursing students may strictly follow a procedure manual without personalization, as they lack experience. Answers are seen as right or wrong, and the opinions of experts are accepted.
2. Complex Critical Thinking:
Learners start to analyze choices independently and think creatively. They recognize conflicting solutions and weigh benefits and risks. Thinking becomes innovative, with a willingness to consider various approaches in complex situations.
3. Commitment:
At this level, individuals anticipate decision points without external help and take responsibility for their choices. They choose actions or beliefs based on available alternatives, considering consequences and accountability.
As nurses gain knowledge and experience, their critical thinking evolves from relying on experts to independent analysis and decision-making, ultimately leading to committed and accountable choices in patient care.
Why Critical Thinking is Important in Nursing?
Critical thinking is important in nursing for several crucial reasons:
Patient Safety:
Nursing decisions directly impact patient well-being. Critical thinking helps nurses identify potential risks, make informed choices, and prevent errors.
Clinical Judgment:
Nursing decisions often involve evaluating information from various sources, such as patient history, lab results, and medical literature.
Critical thinking assists nurses in critically appraising this information, distinguishing credible sources, and making rational judgments that align with evidence-based practices.
Enhances Decision-Making:
In nursing, critical thinking allows nurses to gather relevant patient information, assess it objectively, and weigh different options based on evidence and analysis.
This process empowers them to make informed decisions about patient care, treatment plans, and interventions, ultimately leading to better outcomes.
Promotes Problem-Solving:
Nurses encounter complex patient issues that require effective problem-solving.
Critical thinking equips them to break down problems into manageable parts, analyze root causes, and explore creative solutions that consider the unique needs of each patient.
Drives Creativity:
Nursing care is not always straightforward. Critical thinking encourages nurses to think creatively and explore innovative approaches to challenges, especially when standard protocols might not suffice for unique patient situations.
Fosters Effective Communication:
Communication is central to nursing. Critical thinking enables nurses to clearly express their thoughts, provide logical explanations for their decisions, and engage in meaningful dialogues with patients, families, and other healthcare professionals.
Aids Learning:
Nursing is a field of continuous learning. Critical thinking encourages nurses to engage in ongoing self-directed education, seeking out new knowledge, embracing new techniques, and staying current with the latest research and developments.
Improves Relationships:
Open-mindedness and empathy are essential in nursing relationships.
Critical thinking encourages nurses to consider diverse viewpoints, understand patients' perspectives, and communicate compassionately, leading to stronger therapeutic relationships.
Empowers Independence:
Nursing often requires autonomous decision-making. Critical thinking empowers nurses to analyze situations independently, make judgments without undue influence, and take responsibility for their actions.
Facilitates Adaptability:
Healthcare environments are ever-changing. Critical thinking equips nurses with the ability to quickly assess new information, adjust care plans, and navigate unexpected situations while maintaining patient safety and well-being.
Strengthens Critical Analysis:
In the era of vast information, nurses must discern reliable data from misinformation.
Critical thinking helps them scrutinize sources, question assumptions, and make well-founded choices based on credible information.
How to Apply Critical Thinking in Nursing? (With Examples)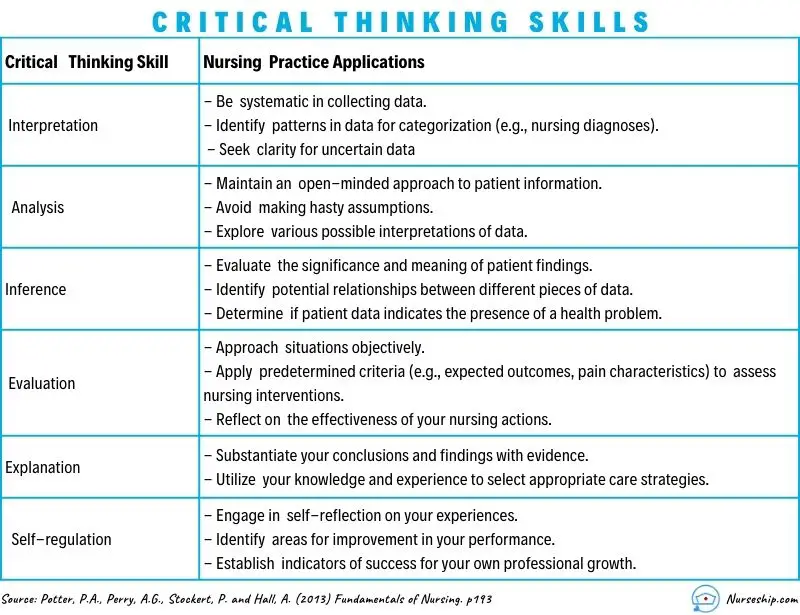 Here are some examples of how nurses can apply critical thinking.
Assess Patient Data:
Critical Thinking Action: Carefully review patient history, symptoms, and test results.
Example: A nurse notices a change in a diabetic patient's blood sugar levels. Instead of just administering insulin, the nurse considers recent dietary changes, activity levels, and possible medication interactions before adjusting the treatment plan.
Diagnose Patient Needs:
Critical Thinking Action: Analyze patient data to identify potential nursing diagnoses.
Example: After reviewing a patient's lab results, vital signs, and observations, a nurse identifies "Risk for Impaired Skin Integrity" due to the patient's limited mobility.
Plan and Implement Care:
Critical Thinking Action: Develop a care plan based on patient needs and evidence-based practices.
Example: For a patient at risk of falls, the nurse plans interventions such as hourly rounding, non-slip footwear, and bed alarms to ensure patient safety.
Evaluate Interventions:
Critical Thinking Action: Assess the effectiveness of interventions and modify the care plan as needed.
Example: After administering pain medication, the nurse evaluates its impact on the patient's comfort level and considers adjusting the dosage or trying an alternative pain management approach.
Prioritize Care:
Critical Thinking Action: Determine the order of interventions based on patient acuity and needs.
Example: In a busy emergency department, the nurse triages patients by considering the severity of their conditions, ensuring that critical cases receive immediate attention.
Collaborate with the Healthcare Team:
Critical Thinking Action: Participate in interdisciplinary discussions and share insights.
Example: During rounds, a nurse provides input on a patient's response to treatment, which prompts the team to adjust the care plan for better outcomes.
Ethical Decision-Making:
Critical Thinking Action: Analyze ethical dilemmas and make morally sound choices.
Example: When a terminally ill patient expresses a desire to stop treatment, the nurse engages in ethical discussions, respecting the patient's autonomy and ensuring proper end-of-life care.
Patient Education:
Critical Thinking Action: Tailor patient education to individual needs and comprehension levels.
Example: A nurse uses visual aids and simplified language to explain medication administration to a patient with limited literacy skills.
Adapt to Changes:
Critical Thinking Action: Quickly adjust care plans when patient conditions change.
Example: During post-operative recovery, a nurse notices signs of infection and promptly informs the healthcare team to initiate appropriate treatment adjustments.
Critical Analysis of Information:
Critical Thinking Action: Evaluate information sources for reliability and relevance.
Example: When presented with conflicting research studies, a nurse critically examines the methodologies and sample sizes to determine which study is more credible.
Making Sense of Critical Thinking Skills
What is the purpose of critical thinking in nursing?
The purpose of critical thinking in nursing is to enable nurses to effectively analyze, interpret, and evaluate patient information, make informed clinical judgments, develop appropriate care plans, prioritize interventions, and adapt their approaches as needed, thereby ensuring safe, evidence-based, and patient-centered care.
Why critical thinking is important in nursing?
Critical thinking is important in nursing because it promotes safe decision-making, accurate clinical judgment, problem-solving, evidence-based practice, holistic patient care, ethical reasoning, collaboration, and adapting to dynamic healthcare environments.
Critical thinking skill also enhances patient safety, improves outcomes, and supports nurses' professional growth.
How is critical thinking used in the nursing process?
Critical thinking is integral to the nursing process as it guides nurses through the systematic approach of assessing, diagnosing, planning, implementing, and evaluating patient care. It involves:
Assessment: Critical thinking enables nurses to gather and interpret patient data accurately, recognizing relevant patterns and cues.
Diagnosis: Nurses use critical thinking to analyze patient data, identify nursing diagnoses, and differentiate actual issues from potential complications.
Planning: Critical thinking helps nurses develop tailored care plans, selecting appropriate interventions based on patient needs and evidence.
Implementation: Nurses make informed decisions during interventions, considering patient responses and adjusting plans as needed.
Evaluation: Critical thinking supports the assessment of patient outcomes, determining the effectiveness of intervention, and adapting care accordingly.
Throughout the nursing process, critical thinking ensures comprehensive, patient-centered care and fosters continuous improvement in clinical judgment and decision-making.
What is an example of the critical thinking attitude of independent thinking in nursing practice?
An example of the critical thinking attitude of independent thinking in nursing practice could be:
A nurse is caring for a patient with a complex medical history who is experiencing a new set of symptoms. The nurse carefully reviews the patient's history, recent test results, and medication list.
While discussing the case with the healthcare team, the nurse realizes that the current treatment plan might not be addressing all aspects of the patient's condition.
Instead of simply following the established protocol, the nurse independently considers alternative approaches based on their assessment.
The nurse proposes a modification to the treatment plan, citing the rationale and evidence supporting the change.
This demonstrates independent thinking by critically evaluating the situation, challenging assumptions, and advocating for a more personalized and effective patient care approach.
How to use Costa's level of questioning for critical thinking in nursing?
Costa's levels of questioning can be applied in nursing to facilitate critical thinking and stimulate a deeper understanding of patient situations. The levels of questioning are as follows:
Costa's Levels
Example Nursing Questions
Level 1: Gathering Complete; Define; Describe; Identify; List; Observe; Recite; Select
1. What are the common side effects of the prescribed medication?
2. When was the patient's last bowel movement?
3. Who is the patient's emergency contact person?
4. Describe the patient's current level of pain.
5. What information is in the patient's medical record?
Level 2: Processing Compare; Contrast; Classify; Sort; Distinguish; Explain (Why?); Infer; Analyze
1. What would happen if the patient's blood pressure falls further?
2. Compare the patient's oxygen saturation levels before and after administering oxygen.
3. What other nursing interventions could be considered for wound care?
4. Infer the potential reasons behind the patient's increased heart rate.
5. Analyze the relationship between the patient's diet and blood glucose levels.
Level 3: Application Evaluate; Generalize; Imagine; Judge; Predict; Speculate If/Then; Hypothesize; Forecast
1. What do you think will be the patient's response to the new pain management strategy?
2. Could the patient's current symptoms be indicative of an underlying complication?
3. How would you prioritize care for patients with varying acuity levels in the emergency department?
4. What evidence supports your choice of administering the medication at this time? 5. Create a care plan for a patient with complex needs requiring multiple interventions.
Costa's Level of Questioning for Critical Thinking in Nursing
See Also:
Conclusion
Critical thinking in nursing is the foundation that underpins safe, effective, and patient-centered care.
Critical thinking skills empower nurses to navigate the complexities of their profession while consistently providing high-quality care to diverse patient populations.
Reading Recommendation
Potter, P.A., Perry, A.G., Stockert, P. and Hall, A. (2013) Fundamentals of Nursing